Cupolas, Dormers, Skylights and Sidelites
Cupolas Available in: 24″x24″, 36″x36″, 48″x48″
A Cupola is probably the most distinguishing item that you can install on a building. It adds character and appeal. Cupolas come in a large selection of colors and adds ventilation. You can express your personality with a variety of weathervanes!
Weathervanes Include:  29″ High Horse, Horse & Buggy, Cow, Eagle, Pig, Rooster, and Antique Car.
Do you want a little something extra? Add visual interest and natural light with dormers and skylights!

Dormers add visual interest as an architectural feature as well as increasing ventilation, light, and height to attics. Available in many sizes.
Skylights and Sidelites allow for natural light in the building. Available in many sizes and configurations.
Roof Truss and Eave Options
Several options to choose from! Standard Roof Trusses are 4/12 pitch, but we have several options to choose from including Attic, Gambrell Attic, Scissor, and Carriage Style.

Wainscoating is a great way to aesthetically enhance your new building's appearance.
You can choose to break up the solid color of your building's sidewalls by installing a 2′, 3′, or 4′ high panel of contrasting color along the bottom perimeter.
Doors – Sliding Track and Overhead Garage
Sliding Track Doors come in Single Sliding and Split Sliding Options.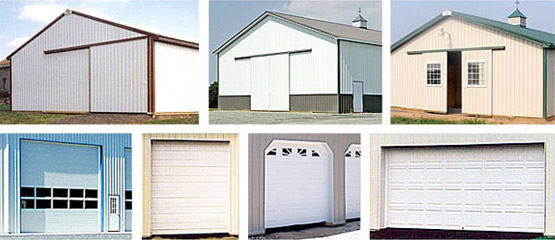 Overhead Garage Doors come standard with Torsion Bars for Commercial and Residential Use.
Doors – Entry Doors, Dutch Doors and Horse Stall Doors
Steel Service Doors are all 3′ wide x 6-8′ high.
Optional Flush 9-Lite Glass and French Doors available. Steel Clad Dutch Doors come pre-assembled and available in any combination of colors. They are maintenance free. Wood Doors and Sliding Doors available for Horse Stall Entrance.
Windows Sizes: 3′ x 2′ sliders, 4′ x 3′ sliders and 36″ x 44″ Single Hung Windows. All are insulated and come with screens. Grids are optional.
We offer Windows in a several sizes and styles, Vinyl Sliders w/Screens Double Pane Insulated.
In addition to Cupolas and Dormers, Gable Vents and Ridge Vents allow for needed ventilation.
What's a Horse Barn without Horse Stalls? Fetterville offers a wide variety of horse stall packages.

Whether you're boarding 1 horse or 10, we've got the system for you. Wash, tack, and feed stalls also available.