East Hampton, CT

Middlesex County | Zip: 06424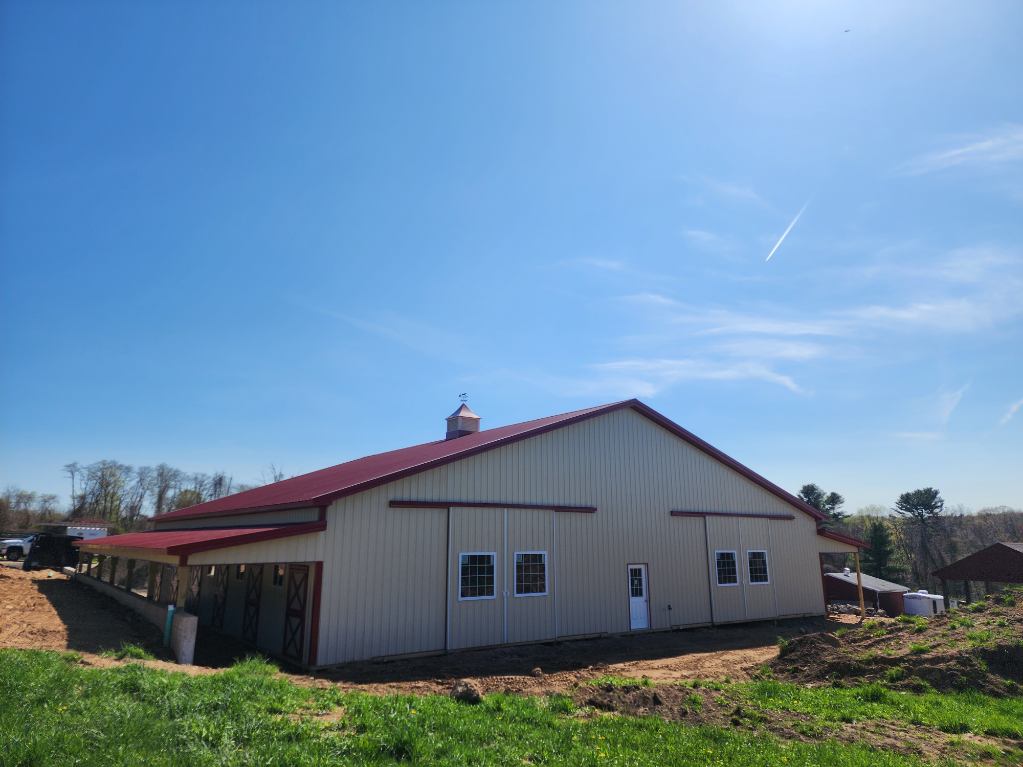 Click on the above image to view it in its full size.
if you're looking for a horse barn facility you found the right place!  We only take on a handful of these types of projects each year and we're proud to share this one with you.  The base building is 72′ square.  What makes this building really cool is that everything is centered around the 24′ x 52′ tack room.  And why shouldn't it be?  For years a tack room was lucky to be a few feet bigger than the stalls it was set up to service.  In this one though, it's the centerpiece of the operation and what an operation it is.  If you're looking to adopt a draft horse, make sure to check in here:  https://www.ctdraftrescue.org/
Now back to the building.  A matching pair of 10′ wide by 72′ long open lean to roofs provide shade and shelter from the elements to a dozen 12′ x 12′ horse stalls.  The stalls are accessed from the Tongue & Grooved Hallways on the interior, but also by a beautiful and accommodating 4′ x 7′ Dutch door that spills out under the Lean to.  Two 12′ x 12′ Split Sliding doors on both gable ends of the building allow access to the hallways.  This is truly a one of a kind building and one we thoroughly enjoyed building. Give us a call today to talk about your project!
Project# 044FEJZ22
Project Type:
Agricultural, Combination Building, Equestrian
---
Project Size:
72' x 72' x 12' w/ 2 - 10' Lean To's
Project Square Feet:
5184 + Lean To's
---