Oakland, MD

Garrett County | Zip: 21550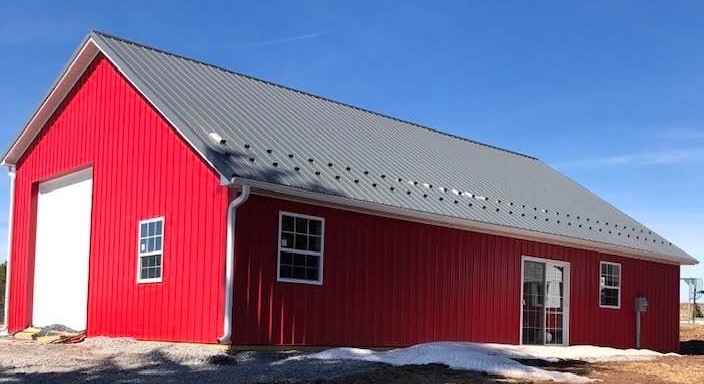 Click on the above image to view it in its full size.
Here's a great combination building!  One side will house and store this couples' RV.  The other side will be permanent living quarters!  What a great combo.  Included in the picture set is the floor plan detailing this unique and clever design.
The RV storage side is 20′ wide and 48′ long.  There's an insulated steel overhead door on each end measuring 12′ x 12′ permitting a 'drive through' feature.  This side is fully insulated and lined with 29 White painted steel for a maintenance free interior.  This will allow the owners to wash and clean the RV inside without causing any damage to the interior of the building.
The living quarters side is 14′ wide and 48′ long as well.  Since we're bringing the rafters off a 14′ high wall down to a normal wall height to live in – the result is a vaulted ceiling area which will give the smaller space a great feel about it.  Five windows, an entry door and a sliding patio door will keep this side feeling light and airy.  The building's exterior provides for proper drainage by the use of Seamless 5″ Aluminum gutters and there's 2 rows of Snow Guards up on the roof to hold any snow at bay till it melts therefore protecting the gutters.  The RV side has the standard 4/12 roof pitch, while the living side has an 8/12.  12″ Overhangs on all 4 sides of the building round out this unique and cool building!  Check back for more pics later on to see the interior finish on the living quarters side.
Project Type:
Cabin, Combination Building, Garage, Hobby Style
---
Project Size:
34 x 48 x 14
---