Red Hook, NY

Dutchess County | Zip: 12571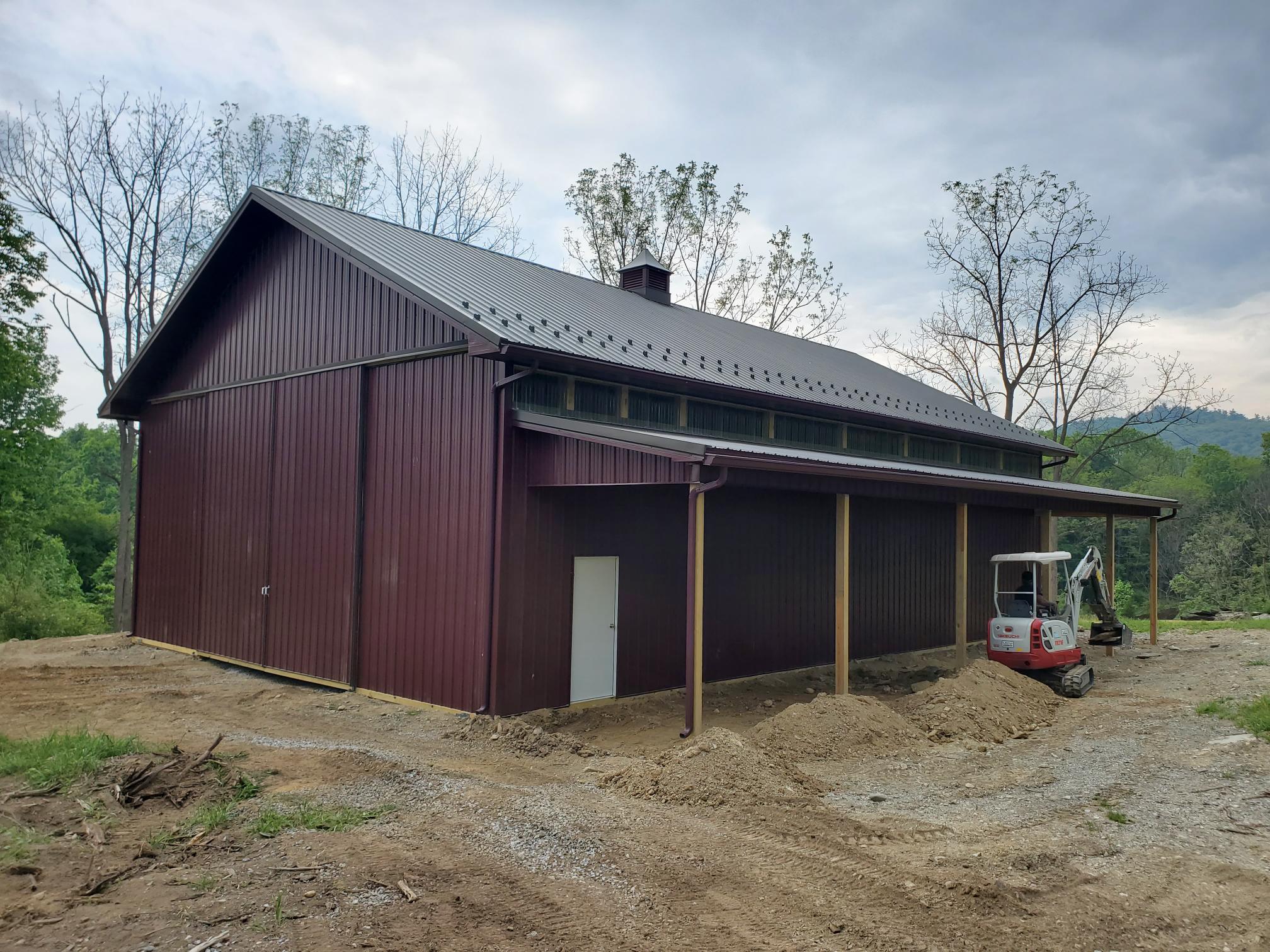 Click on the above image to view it in its full size.
This work horse of a pole building has a little something for everyone.  The base size is 40′ wide and 60′ long.  That's a good size to start with if you're looking for maneuverability inside the walls.  The 6/12 pitch really sets this one apart.  Our standard is a 4/12 pitch (and we stock these in our yard), but a 6/12 is readily available as well.  Take note of the Lean To Roof.  That roof extends 10′ out past the eave of the building, but the length is set in a couple feet on each end so that the gable end overhangs get returned into the wall.  The alternative to this is to allow the overhangs to extend out past the building's walls.  You can see that example here: https://www.fettervillesales.com/projects/monroe-nj
The cost is the same no matter which way you choose to go, but we like options and alternatives here at the 'ville and these are the 2 options for lean to roofs with gable end overhangs.
This is a good size building with a lot of square footage area under roof.  Drainage is very important.  The customer did a nice job with his site prep beforehand and he planned for the eventual rains and snowfall by installing 6″ seamless gutters along with 2 rows of Snow Guards on both eave lines.  Smart 😉  The big 18′ wide and 16' high split sliding door on the gable end doesn't require any sort of header system since the roof load is being carried on the sidewalls.  This will enable him to bring anything inside the building that's equal to the ceiling height.  Very functional.
Give one of our sales reps a call today to discuss your building needs.  We love to build pole buildings!!
Project #  077FELG22
Project Type:
Agricultural, Commercial, Work Shop
---
Project Size:
40' x 60' x 16' w/ 10' Lean To
Project Square Feet:
2400 + 600 For Lean To
---