Toano, VA

James City County | Zip: 23168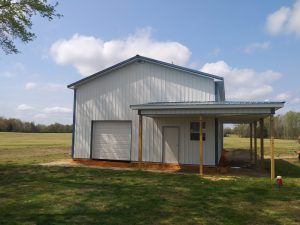 Click on the above image to view it in its full size.
Toano, VA
Here's a real head turner!  Crisp and cool colors accentuate this 30′ x 60′ multi-use pole building.  There are 2 huge 16′ wide by 13′ high garage doors in the eave walls right across from each other that will allow the owners to virtually pull anything inside and through the building that they would like.  The 8′ wide wrap around, below eave lean-to will be perfect for rocking chairs and lemonade sippin'.  And there's plenty of room down both sides to do it.  The roof extends 10′ across the gable end and 23′ down the sidewall to cover 2 entry doors and a couple of windows.  A 48″ cupola with a weathervane caps off this gem!
Project Type:
Agricultural, Combination Building, Garage, Hobby Style, Work Shop
---
---