Uniontown, PA

Fayette County | Zip: 15401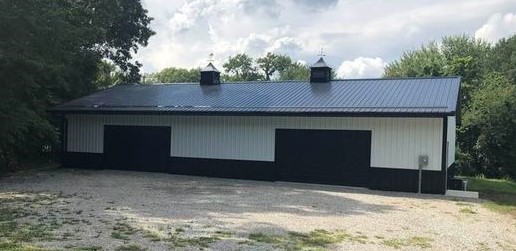 Click on the above image to view it in its full size.
Uniontown, PA
Here's a very sleek looking 36′ deep building.  66′ in length provides plenty of floor space and for this particular customer – twin 14′ wide by 8′ high overhead garage doors filled his need.  Garage doors come in pretty much any size you need nowadays, but cost efficiency is found in doors that are 10′, 12′, 14′, 16′, 18′ and 20′ wide.  (Even width increments)  What really sets this building apart is that oversized 36″ wide cantilevered style overhang that extends out over the garage doors.  We cantilever an overhang of this size for a couple reasons.  One, it doesn't end right on top of the doors and two – it just looks better!!
3′ of wainscoting is aesthetically perfect for this 10′ high building (roughly 1/3 of the wall height).  A matching pair of 36″ roof cupolas complete with weathervanes cap off this black and white classic.  Give us a call to discuss your needs.  If you're in the Western PA or West Virginia area, call Mark Rose at              1-800-275-8245 today!
#021FWMR21
Project Type:
Garage, Hobby Style
---
Project Size:
36' x 66' x 10'
---
Siding Color:
Brite White w/ Black Wainscoting