Williamstown, NJ

Gloucester County | Zip: 08094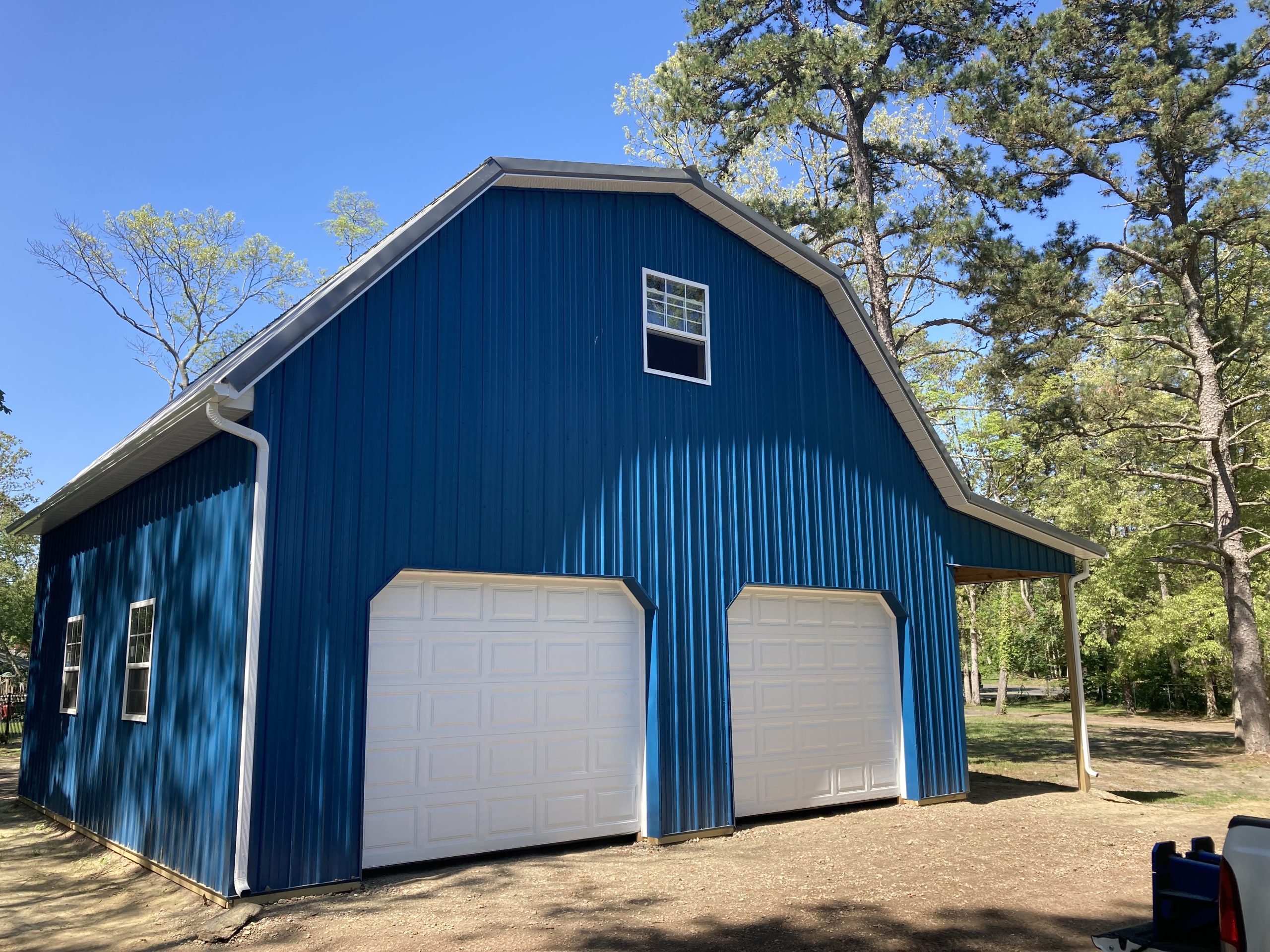 Click on the above image to view it in its full size.
Williamstown, NJ
Here's an amazing looking Gambrel Attic style building!  This one's loaded.  The gambrel roof shape provides for a big, cozy, comfy upstairs room area with countless possibilities on how to finish and use the space.  The oversized 6′ wide dormers allow light to pour into the space as well as providing access to literally walk over and look out of the window onto the property below.  We always put down a 3/4″ Tongue and Groove (T&G) sub floor in our attic rooms to provide a strong and sturdy base.  We also install 2×4 nailers along the attic room walls to meet local building codes.
But back to the specs on this gorgeous building …. If you look closely at the attic pictures you'll notice a white backing to the underside of the roof metal.  That's called Solex Insulation.  We love to install that under our metal roofs for numerous reasons.  One it provides a bright, clean interior finish.  Secondly, it doesn't allow frost to adhere to the underside of the metal and therefore completely eliminates any chance of condensation.  It also provides some additional tempering of sound in a pounding rainstorm.  Doesn't hurt to knock a little bit of chill off in the wintertime either.  It's a very low cost option to add and one we highly recommend.
Notice the angles on the corners of the garage doors.  These are what we call "Dutch Corners".  They had a little curb appeal for very little money.  You can't see it in the pics, but these doors also have Hi-Lift garage door tracks.  The ceiling height is 12′ but the doors are only 8′ high.  Typically the tracks would be a foot above the top of the door, but to get the tracks up closer to the ceiling and out of the way, hi-lift tracks can be installed, again for very little cost.  Since all of our overhead doors are professionally installed, adding this feature is very easy and very economical.
Project Type:
Garage, Hobby Style, Work Shop
---
Project Size:
30' x 30' x 12' with 10'x30' Lean To
---